Product Categories
CONTACT US
Simplex Marketing (M) Sdn Bhd No. 101-G, Jalan TKS 1 Taman Kajang Sentral 43000 Kajang Selangor Darul Ehsan, Malaysia
enquiries@simplexmarketing.com.my
+6 – 03 – 8733 0722/3722
+6 – 03 – 8733 0922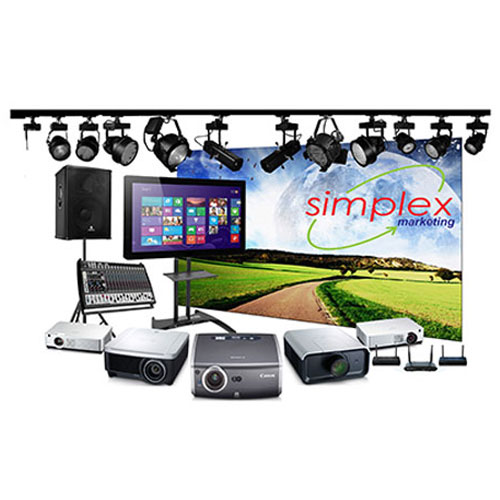 Audio Visual Systems
Product Description
Projection Systems Installations/Maintenance
Wireless Display/Projection Solutions
Large Format LED Displays (Indoors/Outdoors)
Digital Smartboards
Sound & Lighting Systems
SERVICES PROVIDED
Full systems consultancy and installation services for wide range of Audio Visual Systems requirements.
Classrooms/Lecture Halls, Meeting Rooms, Function Rooms, Banquet Halls, Showrooms, Info Panels,
Soundproofing, Indoor/Outdoor Displays, Simulators, Theaters, etc.
Projection Systems Installation/Maintenance
Consultancy, site assessment, and installation services. Maintenance services also available.
Ceiling mounts, Wall mounts, Cabling works, Projection Screens, Projector lifts, Projector cages, etc
Wireless Display/Projection Solutions
Cast your digital content wirelessly to Projector/TV/Monitor without the hassle of installing physical VGA/HDMI cables.
Available for different display resolution requirements.
Large Format LED Displays
Full consultancy and installation services for standard or custom size large format LED displays.
Indoor SMD LED Display – P3mm, P4mm, P5mm, P6mm, P7.62mm, P10mm
Outdoor SMD LED Display – P10mm, P12mm, P14mm, P16mm, P20mm
Digital Smartboards
Ideal for replacing whiteboards, static displays, info panels, projectors
Digital Smartboards are large format interactive displays with the simplicity of familiar meeting room tools in engaging the audience.
Full-HD touch screens that are available in various sizes : 55″ / 65″ / 70″ / 84″.
Sound & Lighting Systems
Full consultancy and installation services for small to large venues.